Contact us
Address: No.50, Xinling RD, Dalang Town, Shenzhen City, 518109, China
+86-755-2953 8560 (7 line)
+86-755-2953 8559
Mr.King Lui
sales@kingfar.com.hk
Smashbox cosmetics Reveals Modular display System
2012/6/5
With Adaptable Displays, Smashbox Cosmetics Expands into International Markets; Régis Péan of Omni//Form Creates a Modular System that Fits Any Retail Environment
The Los Angeles-based company's origins in photography studios inspired Péan's design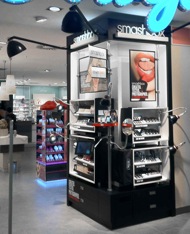 Péan created what he calls a 'Brand Experience Toolkit' of standard components that streamlines the process of opening new stores in global locations. It cuts costs as displays don't have to be custom-designed to fit each environment.
New York, New York (PRWEB) May 21, 2012
Régis Péan, principal and founder of design firmOmni//Form, has created adaptable retail display systems for the makeup line, Smashbox Cosmetics.The new displays provide brand recognition and can be easily installed in retail environments anywhere in the world. Smashbox Cosmetics is preparing to expand from the United States into international markets. The first installation opened in Berlin on April 27, with 16 more to follow in Germany. U.K. displays will open in August 2012 in Boots, a chain of health and pharmacy stores.
Péan created what he calls a 'Brand Experience Toolkit' of bespoke components that streamlines the process of installing displays and opening new stores in global locations. It cuts costs as displays don't have to be custom-designed to fit each environment. This Toolkit is a valuable tool since 76% of retailers are looking to expand into new markets and/or reinvent themselves in 2012, according to PwC Retail Consulting Services.
Smashbox Cosmetics' new displays have the aesthetics of a photography set, featuring white shelving, black boxes, camera lights, metal support poles and iPads. Péan was inspired by the company's heritage and its direct affiliation with Smashbox photo studios. The design also supports Smashbox Cosmetics' position as a "high-definition" makeup line that is always camera-ready. There is a growing demand for makeup that doesn't have to be reappliedas photos are now taken with any device and are quickly posted on the Internet.
"It is important to create something that consumers can immediately associate with the brand," says Péan. "Consumers in foreign countries are not yet familiar with Smashbox, so we are making the brand recognizable. In order to keep the same look in all retail formats we created a Brand Experience Toolkit, a system of individual components that is arranged as needed."
"Régis created a design in which every feature tells the story of the brand. Additionally, the fact that it can be replicated with little effort, is important as we enter new markets," says Alexis Szabo, Head of International Sales for Smashbox Cosmetics. "The design helps us create a consistent experience for our customers anywhere in the world."
Brand Experience Toolkit
Péan created a "Brand Experience Toolkit" for Smashbox Cosmetics to give customers a familiar experience anywhere in the world. The system is composed of various modular components that can be assembled to form different retail formats, such as stands and full back walls. Regional brand managers can choose from a catalogue of pre-assembled formats to order from nearby factories what best suits their market needs.
Péan has created Toolkits for other global companies. He developed one for French luxury jewelry designer, Mauboussin, as the company rebranded its image in 2009 to reach different consumer groups and spread into new markets. To date, the design has been applied to over 30 retail stores in seven international markets. He also deployed the same design strategy for M.A.C. Cosmetics, creating a new retail design for 54 international markets.
Brand returns to its origin
After operating as a photography studio and model agency for six years, Smashbox Studios introduced a makeup line, Smashbox Cosmetics, in 1996. The new retail design refers to the look and feel of the studio environment and captures the vibe of the fashion, the glamour, and the scene that first put Smashbox Studios on the map. The product is "staged" in white boundary-less space with focused lighting, similar to a photography studio. Equipment to hold up shelving, displays, and accessories is reminiscent of studio grip equipment. Camera-like light fixtures are strategically placed around the stands. The iPads allow customers to engage with the brand, watching videos, such as "how to apply" guides and taking photos to upload to Facebook.
About Régis Péan
Régis Péan is a multi-talented creative professional whose work spans from architecture and interior design to art direction and photography. In 2003, he founded Omni//Form, a multi-disciplinary design firm, specializing on retail solutions for cosmetics, luxury and fashion companies.
Péan's approach to retail design is about branding the customer experience. During the design process, he focuses on the target consumer and how they engage with the brand, the merchandise and the space. He then develops a strategy for retail installations, the Brand Experience Toolkit, which defines the design and positioning of global retail brands while considering the logistics of execution. Before founding Omni//Form, Péan was Creative Director for the Cosmetics brand Carol's Daughter and headed Studio Red at The Rockwell Group, a multi-disciplinary design studio in New York. As Principal, he directed marketing and design projects for Coca-Cola, McDonalds, Seventh Generation, and Proctor & Gamble. Péan has also worked for Estee Lauder Companies, Peter Marino Architects and Coop Himmelb(l)au.
About Smashbox Cosmetics
It began when the brothers--two very unique entrepreneurs and great-grandsons of makeup legend Max Factor--combined their talent and heritage to create Smashbox Studios in 1990. With a slew of starlets passing through the studios daily, Dean and Davis were often asked to develop makeup that met the demanding needs of a photo shoot. Today, the state-of-the-art facility is still inundated with the most sought-after photographers, artists, celebs and models. A-listers are regulars here, but more importantly, so are their makeup artists. This means they're always swapping insider tips, tricks and trends directly with the pros. Best of all? They share. They believe that knowledge truly is a beautiful thing, and it is just too good to keep to themselves. From finding quick beauty fixes to demystifying makeup application, they're inspired everyday to create innovative products for everyone, everywhere.