Contact us
Address: No.50, Xinling RD, Dalang Town, Shenzhen City, 518109, China
+86-755-2953 8560 (7 line)
+86-755-2953 8559
Mr.King Lui
sales@kingfar.com.hk
Sunrise's Retractable Banner Stands Out From The Crowd In Trade Show Exhibit Graphics
2013/8/7
Sunrise Digital's new retractable banner is an innovative product aimed at solving one of the classic problems with trade show display graphics – how to set up a trade show booth easily, quickly, and at an economical price.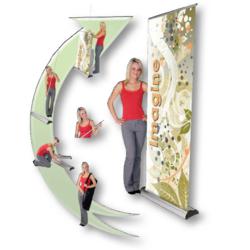 Sunrise's Retractable Banners are among the very best in the industry... These portable display graphics feature attention grabbing vibrant graphics, easy to carry, and can be set up by one person in minutes without requiring any tools.
Chicago, IL (PRWEB) April 28, 2013
Exhibitors around the world are always looking for innovative display graphics that stand out from the crowd, grab attention, and help them attract customers. Of course, these products need to be portable, lightweight, and easy to set up. In addition to popular display options such as table cloth, pole signs, and hop-up display walls, Sunrise Digital introduces a retractable banner that looks awesome, easy to use, and can be set up by one person without using any tools.
Also known as pop-up banner, banner up, or roll up banner, the retractable banner is one of the most versatile solutions in exhibit graphics. It typically consists of the banner stand hardware case, a full color printed graphic, support poles, and a carrying case. While this general bundle is available from many sources, Sunrise's Retractable Banners are head-and-shoulder above the competition in a few ways:
Turn-key Display Solution
Sunrise's retractable banner is available in three different widths, 31.5", 35.5", and 39.5", all with a 83.25" display height. Multiple units can be placed side-by-side to form a portable display wall. It comes loaded with a custom printed graphic, a padded carrying case with shoulder strap, and an outside shipping carton. Sunrise also goes the extra mile of labeling each layer of packaging with a miniature graphic for easy identification.
Quality Hardware Construction
Many cheap stands are made with plastic parts to save cost. Because a plastic case is not stable, they often require swing-out legs to stablize the base, which can be a health hazard since it's easy for people to trip over these legs. Sunrise's stands are made of fine quality aluminum, which is strong, lightweight, and extremely stable, designed for years of use and re-use. The solid banner base is self-balancing, and carries a clean and sleek profile.
Lifetime Fade-Resistant Guarantee
Low-cost banners are often printed using dye-based ink, and color fading is a major concern. Even when used indoors, the UV light from fluorescent tubes and high pressure discharge lamps often found in exhibit halls can make the color fade within days. Sunrise only uses fade resistant OEM inks from top manufacturers, including pigment-based aqueous and latex ink from HP, UltraChrome and Eco Solvent ink from Epson, and UV curable ink from AGFA. Any graphic produced by Sunrise carry a lifetime fade-resistant guarantee.
Thin, Flexible, and Durable Polypropylene
Another area cheap banners try to save money is the material. Vinyl banner is among the lowest cost materials for display graphics. It's suitable for outdoor use, weather resistant, can be made with scrim reinforcement to improve its tear resistance, etc. However, when used in a retractable case, the shape memory of vinyl works against the tight rollers, causing graphics to curl badly. Sunrise uses high quality polypropylene which is much thinner and more flexible but still waterproof and tear resistant, and the smooth print surface enhances the resolution and color vibrancy of printed graphics.
High-End Printing Equipment
Many sign shops get by with just one or two printing technologies to save money. The problem is, no one technology is good for all products. As the saying goes... if the only tool available is a hammer, then everything starts to look like a nail. Sunrise Digital uses more than ten high-end presses for daily production, some costing upwards of half a million dollars. By employing all leading technologies such as aqueous inkjet, solvent, latex, UV curable, and HP Indigo, Sunrise is able to pick the best technology for each project.
An Advanced RIP is The Heart of A Digital Workflow
Another key component of the workflow is the RIP, which is responsible for translating computer graphics into dots on paper. The RIP technology is critical for translating page elements accurately and consistently, ensure color accuracy, manage color calibration, and defining the precise dot pattern a press lays down. While the entire sign industry standardized on Onyx Postershop/Productionhouse developed in the 1990s, Sunrise uses the latest Adobe PDF based print engine called Onyx Thrive. This next-generation RIP features a much more robust interpreter that can successfully interpret the latest PDF specification, such as drop shadow, live transparency, spot color gradients, overprints, etc.
G7 Qualified Master Printer
Qualified G7 Master Printers use the most modern technology, techniques, proofing and press controls and standards required to produce a close visual match from proof to print. Less than 1% of printers in the US have this certification. Being a G7 Qualified Master Printer, Sunrise adheres to the highest standards in color accuracy and consistency. Presses are calibrated daily, sometimes multiple times a day, using digital spectrophotometers to ensure the most consistent colors. And because the company employs an all digital workflow, setup costs are minimal, lowering the cost for clients.
"Retractable banners produced by Sunrise Digital are among the very best in the industry..." says Jimmy Sun, the company president. "These portable display graphics feature attention grabbing vibrant graphics, easy to carry, and can be set up by one person in minutes without requiring any tools."
The Retractable Banner can be purchased from the company's web store at ePrint123.com. Pricing starts at around $330 and goes down to less than $200 for bulk orders.
About Sunrise Digital
Sunrise Digital is an Inc. 5000 company established in 1988 and employs the most advanced equipment and technology, such as G7-certified HP Indigo and UV flatbed presses, laser engraving, and digital die-cutting, to create best-in-class color printing, short-run packaging, P.O.P. retail displays, and signage products. A privately-owned enterprise, the company is based in Chicago and sells products worldwide.